system("./link_jobs.pl") !>

company profiles | company profiles detail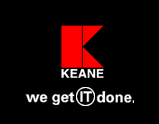 Keane, Inc.
Hot technologies, great people, rapid career development. That is Keane today!
You're talented. You want to work with the hottest emerging technologies, side-by-side with other brilliant minds. Most of all, you want to develop your career at your own pace.
You can do it at Keane. As a full-time consultant, you'll be drawing on your creativity and expertise to provide breakthrough business solutions to clients through web development, systems architecture, e-strategy analysis and more. You'll have the benefit of working with diverse technologies while gaining exposure to a broad range of industries. Your professional growth is assured with flexible career paths, a personal commitment to your development and the resources and stability of a one-billion-dollar company to make it happen.
And you'll be working with great people. We're friendly, smart and opinionated. We're creative and focused on the customer's business. We thrive on challenge and we love to learn. Everything we do is backed by a culture of individual accountability focused on delivering results. Our mantra: "We do what we say we'll do."
John Keane, Sr. founded his IT services firm above a doughnut shop in Hingham, Massachusetts in 1965. Today, we're 10,000 professionals strong, with over 50 offices across the United States, Canada and the United Kingdom. Despite our growth, we've kept the culture of a small organization, providing a unique work environment.
It's talent that makes Keane an industry leader. If you're a smart, impassioned thinker, we want you working with us. Learn more at www.keane.com.
Keane is an equal-opportunity employer, m/f/d/v.
Keane's site.